Introduction
Online businesses are brimming with a customer base and revenue, and can we owe this to the pandemic and the trend of online shopping, which started as a mere spark but has now taken the form of a wildfire.
For small industries, the right tools are the prerequisite to building a reputable business, and for that, you need an eCommerce platform to build an audience, provide core tools and services, and set rules and norms for your business.
And if you are looking for top platforms used by a prestigious website development company in New York for your brand or business, you have landed at the right place.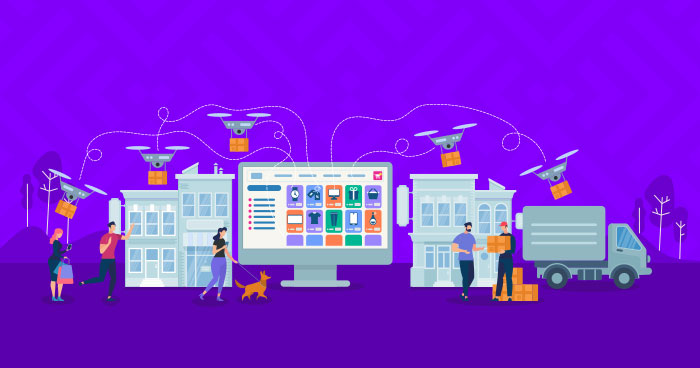 Top eCommerce Platforms For Business Growth
Here are some of the top Commerce Platforms to elevate your online sales to the next level.
1] Shopify
This web application helps create an online store without any hassle and enables you to choose from several top-notch and customizable templates. Shopify is like a one-stop solution for all issues regarding your online business. It has a range of credit cards to help you sort payments and comes with level 1 PCI compliance and 256-bit SSL encryption for security. It is responsive, convenient, optimal, and everything you need an eCommerce platform to be.
2] Magento Commerce
Magento Commerce is one of the best platforms used by website development companies in New York and is power-packed with some outstanding benefits to help you grow your online sales. It comes with versatile content management, which delivers exactly what it promises. Its mobile-friendly configuration and advanced SEO are all you need to attract customers. It has flexible third-party integrations and customizable security permissions.
3] Elementor
Elementor helps you create a highly stimulating and fully functional website without having to code a word. It helps make stunning WordPress websites to help your online sales grow. It has an intuitive interface and various customizable options to choose from. Plans for Elementor start at US $49 per year.
4] WooCommerce
If you struggle to find a good platform, we might have the right pick for you. WooCommerce is a free WordPress plugin that enables merchants to transform their websites into functional online sites with additional paid features and integration functionalities. This open-source platform is highly customizable and solves all your problems. The only point you need to note to use WooCommerce is to choose the right hosting environment to determine what amount of traffic can be handled.
5] Wix
Wix is one of the easiest eCommerce platforms used by the top web development company in New York to help your online sales grow. You can build a power-packed website with minimal coding and serverless coding. If you are a brand with affordable pricing and need, then Wix is your match with 72 free themes to choose from and permission to customize just about anything. You can also get a personalized SEO plan to gain leads and build great client-customer relationships. However, Wix is not an ideal choice for large-scale online businesses.
Conclusion
eCommerce platforms differ in their range of features and prices but so do businesses. Unique businesses and brands need to choose an eCommerce platform that fits your mould the best. Make sure to select the web development company in New York that helps with your eCommerce platform.
DCom USA is a website development company in New York with good customer service and security services for your brand and customers. Also, good web hosting is a must-do. Once you tick off these factors from your Ideal-eCommerce-Platform-List, there is no stopping for your online sales to grow extensively.